How do bamboo toothbrushes help the environment?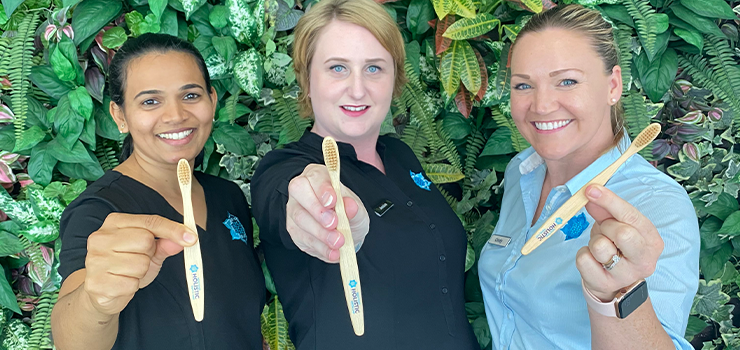 Bamboo toothbrushes help the environment in many ways which include:
Reducing plastic waste
Recycling capabilities
Sustainability
We now have new bamboo toothbrushes available at Gold Coast Holistic Dental Care to help us and our patients provide a positive impact on the environment.
Bamboo toothbrushes are made from bamboo which is a natural growing plant. The properties of bamboo allow products such as toothbrushes to be reused and recycled, once it has outlived its purpose.
Because bamboo is a natural plant it can be sustained and maintained over a long period of time.
Our team has outlined how bamboo toothbrushes help the environment and ways you can reuse or recycle your brush.
Is a bamboo toothbrush eco-friendly?
Bamboo toothbrushes are environmentally friendly as the handles are made from bamboo and are 100% biodegradable. This means, they can be broken down naturally by themselves over time.
However, if you wish to recycle or put your brush into a compost bin or garden, make sure you remove the soft nylon bristles.
You can remove the bristles by simply pulling them out with a pair of pliers. It is recommended that you replace your bamboo toothbrush every three months or as required.
Furthermore, Bambooland state that bamboo may produce up to 35% more oxygen than trees!
Switching to bamboo helps to reduce plastic waste
By switching to bamboo toothbrushes, we can reduce plastic waste within our community. One less plastic product within your household could mean one less item that could pollute our environment. As plastic is difficult to recycle, bamboo might be a good alternative option.
Research suggests that plastic can take up to 1,000 years to break down. On the other hand, something like a bamboo toothbrush may take around 3 – 4 months to break down and decompose.
So, you can imagine if a plastic toothbrush was left in the ocean, it might outlive you 10 times over!
Bamboo is a sustainable plant
As bamboo is a natural growing plant, it does not require fertilisers or pesticides to enable it to grow. Bamboo can be planted and grown repeatedly. In addition, it is also known to be one of the fastest growing plants on the planet!
Bamboo is also used as a material for other things such as:
Building planks
Kitchen chopping boards
Pencils
How can I reuse or dispose of my bamboo toothbrush?
You can reuse or repurpose your bamboo toothbrush in several ways. Some ways to reuse your toothbrush may include:
Gardening markers
After you remove the nylon bristles on your toothbrush, they can be used as a garden marker for your plants! They are small enough to also fit in your pot plant, depending on the size of your pot.
Kitchen cleaning tool
If you are struggling to clean in those hard-to-reach areas like the cracks of your oven or kitchen top bench, your bamboo toothbrush might be able to help you.
With a soft stroke of your brush using water or a cleaning agent, your bamboo brush will be able to clean in small gaps and help you freshen up your kitchen.
It may also able be a great option to clean utensils such as a cheese grater!
Furthermore, you can use your toothbrush to provide your keyboard a dust or clean. The bristles are small enough to fit in between your keyboard and remove food crumbs or dust.
Compost
If you have a compost bin at home or frequently use a community compost station, you can simply place you brush in the compost bin and let it break down.
This way you can dispose of it in a environmentally friendly and controlled manner without impacting the environment.
Bamboo toothbrushes at Gold Coast Holistic Dental Care
We now have new bamboo toothbrushes available at our practice. Our toothbrushes are 100% biodegradable and come in kids and adult sizes.
If you would like a bamboo toothbrush or would like to know more about them, contact our friendly staff today.
Alternatively, you can ask your dentist during your next visit. If you need an appointment, you can book an appointment online 24/7.